Sevenoaks Wedding Car Service: We'll get you to the church on time...
01732 356507

...and there is every reason to arrive in style and comfort
Vintage cars and horse-drawn carriages are all very well. But when it comes to the big day, they can be just another worry you don't need.
One of our elegant silver Mercedes will provide a quiet, comfortable haven in the midst of all the excitement. No worries about whether the wind will spoil your hair, or the rain might ruin your dress; no wondering whether it will start, or get you there on time. Our experienced drivers in the Sevenoaks area will have checked every inch of the route beforehand, while air-conditioning as standard means you'll arrive at the church or reception feeling cool, calm and collected. And because your wedding car will always be the latest model, and prepared to the highest professional standards, it'll look good in the photos, too.
Our classic Rolls Royce Silver Spirit is midnight blue with a beautiful interior trimmed with cream leather and blue piping. This car is fully air conditioned and perfect for your wedding day.
...and for your guests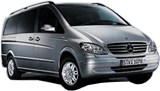 We can give your honoured guests the same VIP treatment, with our Mercedes MPV. As luxurious as you'd expect, it'll also be fully decked out with silk flower displays and ribbons to match your colour scheme.
We also provide the following services


Gavin Sawyer, wedding photographer
www.gavinsawyer.com

Erne Photography, contemporary, creative, classic wedding photography
www.erne-photography.co.uk

Arrive in style
with Red Carpet from the car to the church
www.Redcarpethire.biz

If you would like a no obligation quotation for your wedding travel please click here